While there's something to be said for the simple pleasure of clean sheets, crisp white towels and bespoke complimentary toiletries, there's much more to getting your holiday home ready for guests.
Here are eight tips to help take your home from simply beautiful to a dreamy, relaxing holiday retreat.
+
1. A state of mind
When it comes to creating a welcoming, comfortable holiday home, it's all about how your home makes guests feel.
Start by thinking about the feeling you want to emulate: cosy and relaxed, excited and energetic, or adventurous and inspired. The feeling can tie in with the location, the season or the type of property (e.g. tiny home or beach house), and it's the key to unlocking your holiday home's unique point of difference, which will attract your ideal visitors. See this as your north star.
Once you've decided how you want guests to feel, it's time to start thinking about all the elements that will help create the right vibe. This can include board games, recreational gear, a hammock, a fireplace, additional parking for boats etc. – things they'll use to make the most of their time away.
2. Warm welcome
When your guests drive, you want them to settle in as quickly and effortlessly, so they can start enjoying their time off.
For ease of access, set up a lock box or a digital lock for the door. If you use keys, make sure to include two sets and store them in separate spaces, one in an easy access/visible location for guests and the second in a more hidden but still accessible area (in case guests lock themselves out). Ensure the outdoor area is well-lit in case guests arrive late.
Set up standard email and text communications beforehand that you send to your guests before they arrive. Make sure you include information on where things are stored, any basic home setup logistics (such as alarms, gas fireplaces or switches that need to be turned on) and access codes for doors if applicable.
Also include information on where things like instruction manuals and lockable storage space are located.
While your guests are on holiday, they'll want to feel at home and comfortable, so it's always a good idea to include items that make it easy to do so, for example, a coat hanger or space for muddy boots, clean towels and essential kitchen equipment.
3. Guest guide
Communication is key when it comes to making sure guests feel at ease and confident that you've thought of all the important things, so they can relax. Including a beautifully printed guest guide adds an element of quality by making guests feel catered to – it's a small touch that goes a long way.
At Beyonder, we encourage sustainable travel, and if you choose to go paper-free, the guest guide can be sent to guests digitally, or you can choose to minimise by placing a printed and laminated scannable QR code in the kitchen or other common area.
The guest guide is an important tool for communicating essential information about your home and their holiday. It's also a great way to promote any additional services you offer, or what's happening in the local area.
You can include the following information in your guest guide:
Important contact numbers
Emergency plumbers, electricians, locksmiths etc.
Essential services such as hospitals, doctors, supermarkets, banks etc.
Check-out times and information, including how and where to leave keys
Noise regulations
Parking details and/or taxi services
Wi-Fi password
TV remote and station guide if applicable
Local restaurants, events and attractions
Babysitting services
Housekeeping and laundry information
Rubbish collection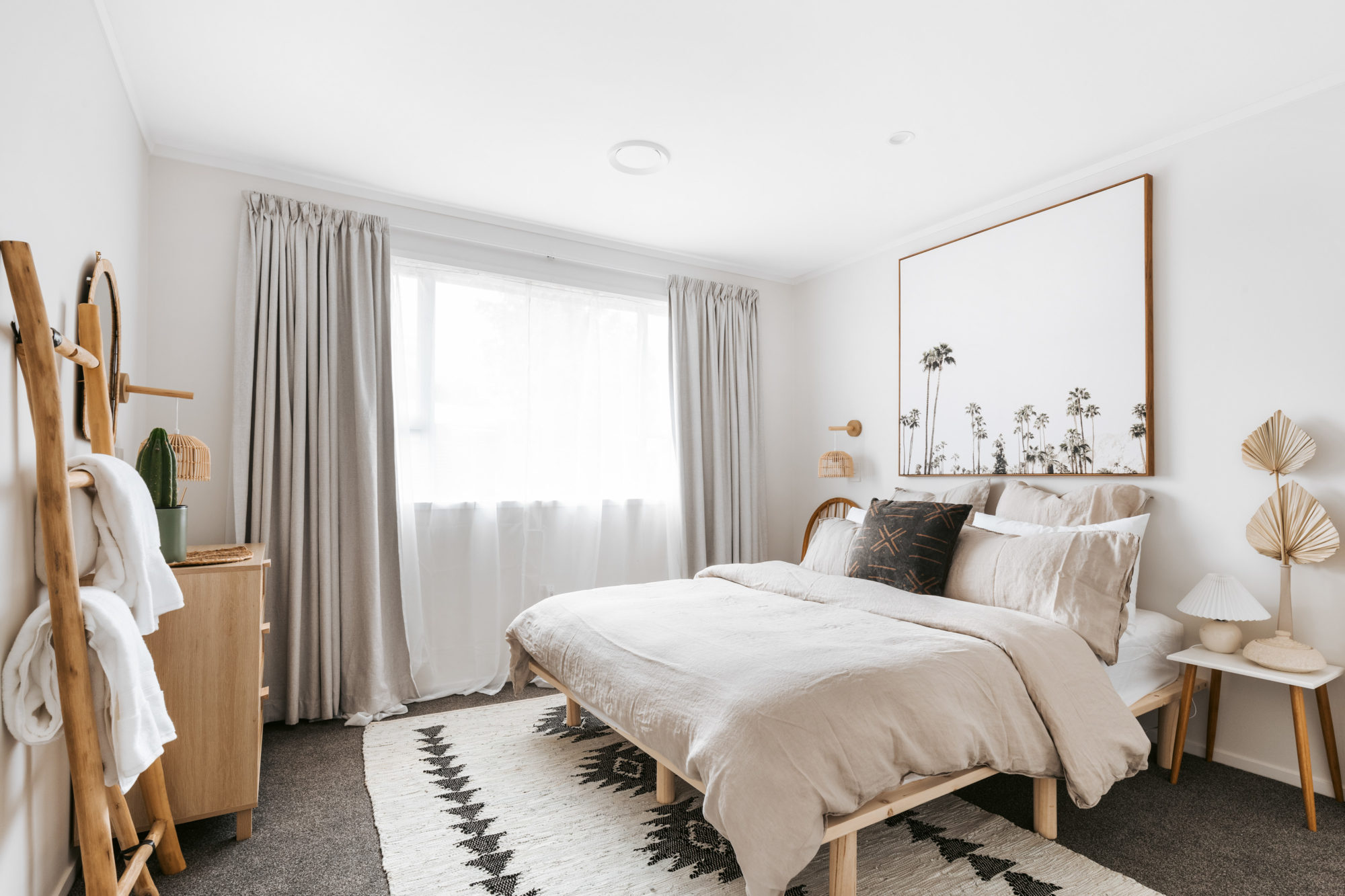 4. Bedroom prep
Is there anything that says "holiday" more than a beautifully made-up bed and a warm, inviting bedroom? The bedroom is where your guests will wind down, so aim to create a sanctuary that encourages them to relax, sleep in and take it slow.
Start with neutral, clean bedding, preferably made from hypo-allergenic fabric like pure cotton or linen (read more under cleaning and linen). Beds don't need to be elaborate or fancy, just simple, clean and cosy. Neutral colours and natural materials will automatically lend an element of paired-down luxury.
Make sure to include at least two pillows per person, one firm and one soft, and opt for hypo-allergenic inners and covers here too. 
Include a space for clothes storage in each room, either a cupboard or drawers (or both) with extra hangers and options for heating and cooling. If this is electric, make sure to include instructions in your pre-arrival communications. 
Provide additional sources of lighting with bedside lamps or built-in lights and block-out curtains or blinds.
5. Pet/child proofing
Some guests may book your holiday home for a family vacation with their little ones or pets in tow. While not all holiday homes are child and/or pet-friendly, if you choose to welcome them, you need to take a few steps to ensure the space is safe and suitable for tiny and/or furry guests.
When it comes to slow living stays, you want guests to feel at ease. Help parents pack accordingly by detailing all the family-friendly amenities available in your pre-arrival communications and guest guide, as well as recommendations for where to replenish supplies.
Children and pets love to explore their surroundings, so you'll need to take some additional safety measures, like installing a gate at the stairs if applicable, and making sure the property is lockable and fully fenced with no escape holes and fencing in the pool. In addition to these, you need to think about furnishings and avoid unstable, top-heavy items that are made of glass or have sharp corners.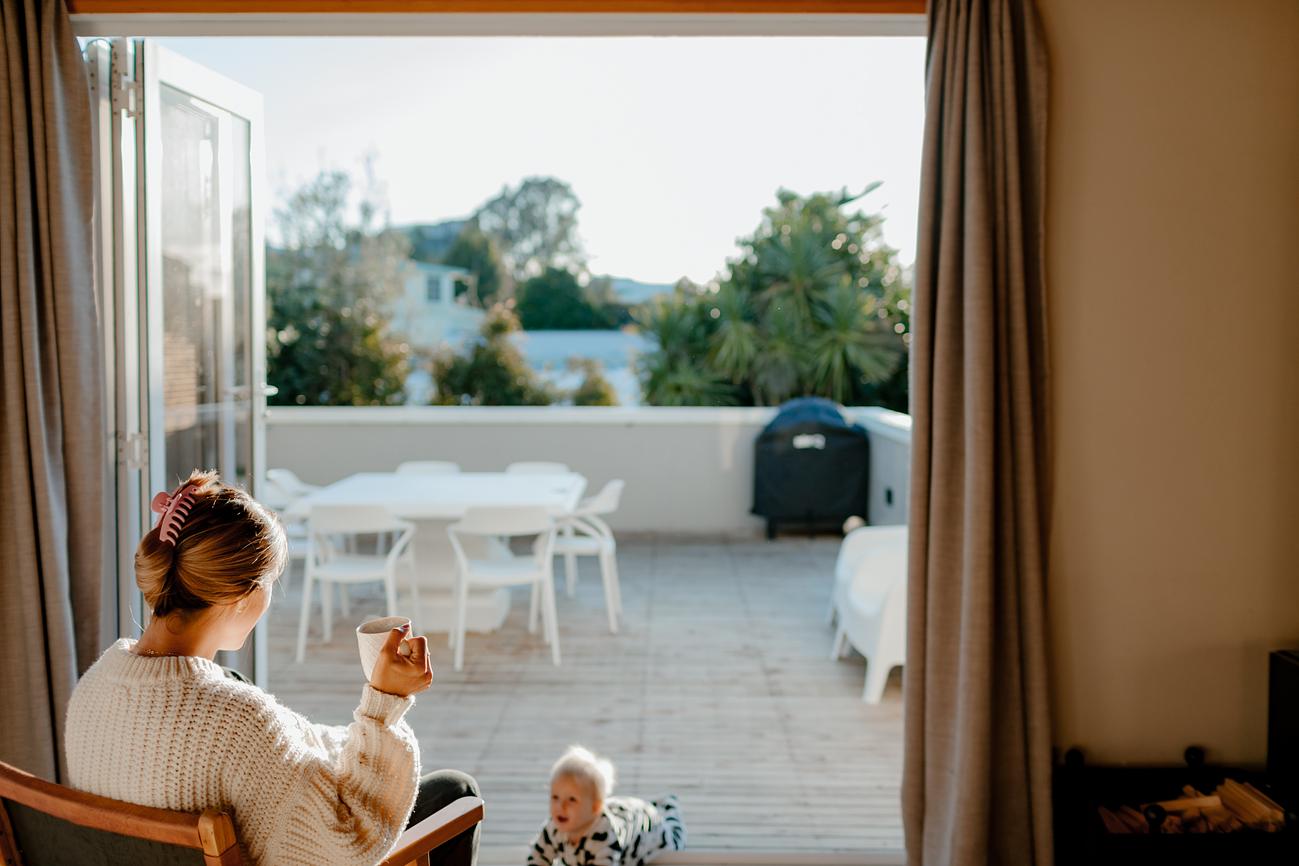 6. Emergency kits
When it comes to making your guests feel at ease, making sure you tick all the safety/emergency boxes is a key to building trust and creating a comfortable and safe space for visitors.
Provide at least one fully stocked first aid kit for emergencies, and include its location in your guest guide. Be sure to check/restock the kit after every visit. In addition to the kit, include a pamphlet or fridge magnet with emergency numbers.
Place fire extinguishers throughout your holiday home, particularly near any high-risk areas such as fireplaces, kitchens or BBQ areas. These usually come equipped with instructions, but if not, make sure you include instructions with each.
While every holiday home will have specific safety needs, making sure you cover the essentials is a good starting point.
7. Cleaning and linen
Understandably, cleaning is often not high on holiday-makers' to-do list, but a clean space is important!
Make sure you thoroughly clean the property inside and out, including aircon units, ovens, microwaves, carpets, bathrooms, sink drains, BBQs, pools, gardens and bins before your guests arrive. Include information on cleaning and what is expected of guests, if anything, in your guest guide. Mention whether a cleaning service will be provided during their stay.
A dishwasher is a great addition to any holiday home to make sure your guests don't spend their time cleaning up, as guests with necessary cleaning supplies such as gloves, cloths, dish brushes and soap. 
If you're using your own linen, simple quality adds a touch of luxury and also lasts longer. Include a fitted and flat sheet on each bed, as well as a thin blanket, duvet and top blanket/throw for each bed. If you prefer not to manage the linen changing and cleaning yourself, you can opt for a professional linen rental service. Beyonder listings all include linen and cleaning services, with our Gold package also including a linen hiring service.
8. Small touches
Small, bespoke touches make even the simplest of spaces feel like a retreat, and will keep your guests coming back for more.
Guests notice the small touches: fresh flowers, neatly made beds, and a thoughtfully designed guest guide. These things show that you've gone above and beyond and make your accommodation stand out to visitors.
When your guests arrive from a long journey, they will likely be tired and hungry. If you're able, offering a carefully put-together welcome basket with locally-sourced treats with a personal handwritten note will make their welcome feel extra special.
You don't have to spend a lot of money to make it feel luxurious and special. If you list your home with Beyonder, we include a lot of these small touches, such as locally-sourced tea and coffee, Ecostore cleaning products and more. You can also add an extra layer of cosy, especially during winter months, with complimentary firewood (if you have a fireplace), extra blankets, a bookcase with books, board games and a toy basket for children.
+
Putting effort into how you prepare your holiday home for guests is the best way to create a relaxing escape for guests, and paves the way for positive reviews, return visits and recommendations to their friends and family.
While these touches are worth their weight in terms of happy guests, you may find the effort overwhelming. If you prefer to leave your holiday home in someone else's hands and simply watch the good reviews roll in, contact us for a free property appraisal and info pack.